| Video List | Past Programs |
Resources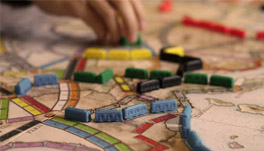 Video List
The St. Cloud Area Human Service Council owns a number of videos/DVDs that are available on loan. If your organization is a member, you can check out these training videos/DVDs at no-cost to your organization.
This is a benefit of membership.
To checkout any of these resources, contact Laura Hood at laura.hood@ci.stcloud.mn.us or call 255-7245 to reserve the video.
Member organizations are able to check-out one video at a time and must indicate an estimated return date. If videos are not returned, the organization that checked out the video will be responsible for the replacement cost of the video.
For a list of available videos/DVDs, click here
Past Programs
Some of the St. Cloud Area Human Service Council's past programs include:


• "Conflict Resolution Center", presented by Ona Lawrence, Program Director
Topics addressed in the training:
- Community mediation is an attempt for prevention and keeping disputes out of the criminal justice center. - Often conflict can be resolved through talking.
- Community mediation in communities humanizes people and makes connections. See commonalities among each other.
- Mediation really creates the space for people to listen to each other when involved in conflict. It is powerful for people to be heard.

*SAMPLE Questions:
1. Tell me more about why that is important to you?
2. What has been the impact of this on you?
3. What is it that concerns you about this?
4. What leads you to say this?
5. What specific information is on your mind about this?
6. What past experiences influence how you're thinking about this?
7. What do you want to see more of moving forward?

- Best 2 words in mediation – "Tell me".
Everyone is impacted differently and offer varying perspectives to every situation.

- Conflict Resolution Center does mediations in many different areas: parenting time, legal aide, elderly, schools, families, courts etc. Goal is to serve those that really can't afford and may be dealing with legal concerns and/or don't have the skills to navigate.


• "Regional Labor Force Trends: Human Services Field", presented by Luke Grenier, regional analyst for central & southwestern Minnesota with DEED

• Light the Legacy, presented by Lynn MacKenzie, Director of Honoring Life's Choices. Light the Legacy is a community based organization dedicated to working collaboratively to improved end-of-life care for people of Central Minnesota.

• Access to Food as it relates to Policy Systems Environment (PSE) efforts in Central Minnesota,
JoDee Christianson –SNAP Educator with MN Extension
Kathy Geislinger – Program Specialist CentraCare BLEND
Alison Dudek – Stearns County Human Services Public Health Division
Lori Larson – Catholic Charities Senior Dining Manager

• Highlights from Stearns County Community Health Improvement Plan, presented by Renee Frauendienst, Public Health Division Director – Stearns County Human Services

• Social media marketing for Nonprofits, presented by Luke Riordan of DAYTA Marketing

• Organizational Assessment for Workplace Violence: Evaluation & Employee Training, presented by Officer Tad Hoeschen, Community Crime Impact Team – St. Cloud Police Department.

• Introduction to the U.S. Census Bureau (provided participants with an overview of the wide variety of data available through the Census Bureau website), presented by Ryan Dolan, Data Dissemination Specialist for the U.S. Census Bureau.

• Nonprofits, Elections, Voter Engagement and You, presented by Rinal Ray, MN Council of Nonprofits & Jeff Narabrook, Voter Outreach Director

• 30 Minute Movie – Arrival: Women's Visions for a New Home, produced in St. Cloud by KSMQ Public Television, followed by a group discussion

• A Conversation about Mental Health/Wellness, present by Bill Affeldt, LICSW Clinical Supervisor IRTS-Central Minnesota Mental Health Center

• Annually the Council also hosts a Resource Fair and half-day training
Speaker Handouts
More information to follow.